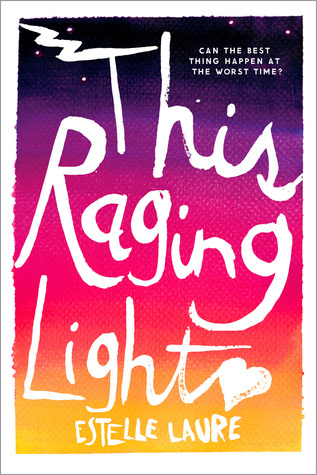 This Raging Light
Estelle Laure
Publication: 12/22/15
Source: Netgalley e-ARC
Goodreads | Amazon | The Book Depository
I was provided with this ARC by the publisher and Netgalley in exchange for my honest opinion.
---
Can the best thing happen at the worst time?
Her dad went crazy. Her mom left town. She has bills to pay and a little sister to look after. Now is not the time for level-headed seventeen-year-old Lucille to fall in love. But love—messy, inconvenient love—is what she's about to experience when she falls for Digby Jones, her best friend's brother.
---
Despite what the synopsis looks like, I don't think the romance is the focus of this book). I am very conflicted about this book.  On one hand I really liked it and on the other I did not.
The writing kind of annoyed me.  It was choppy and a bit too, (but at the same time, not enough) purple-y. Some of it was really beautiful and at other points it was just weird.  It was strong and weak at the same time and I think that is contributes to my confusion over how to rate this.
Also, the book was only 288 pages long and a LOT happens.  Ok, well not really. But there are a lot of different plot points, which kind of takes away from the fact that this book would have been very interesting if it was just about her trying to survive on her own and care for her sister.  That would have been enough.  But you also have a romance and friendship issues.  And on top of that, within the last like, 15% of the book there is an accident which takes away from the plot and is completely and totally unnecessary.
So from here on out, it's not really going to be much of a review as it is a rant.  Sorry.
This book made me very angry. I need to point out that I was angry for Lucille, not at her.  I don't think she was angry enough.  When I read a book that is 1st person, single POV I always end up viewing myself as the character.  Well, if the writing is good.  That means that I usually always defend the character and get angry on her behalf when things go wrong.  So I was on Lucille's side.  Through everything.  That means it's hard for me to blame her in both the relationship and friendship aspect.  That doesn't mean that I particularly liked Lucille.  I didn't not like her, I just didn't love her. But I understand her.
She's got the short end of the stick and she is doing the best she can. She needs support.  I'm not saying she should wallow in self-pity forever, but I think for the length of the book it is perfectly acceptable.  It's only, like, 2 and a ½ months and I think it is fine that she is woe-is-me.  Her life sucks at the moment.  And for the most part, she isn't that selfish. The complaining isn't overbearing.  She worries for her sister and making enough money.  I got really annoyed when Digby was making fun of her (in a teasing way) about how much she is complaining. She isn't just making the drama up like I did when I was 17 and complaining about how much my life sucked.  SHE IS LITERALLY 17, ALONE, AND TAKING CARE OF A 9 YEAR OLD. I know this happens more than it should, but come on.  If I was 17 and my parents abandoned me with my 9 year old sister I probably wouldn't have done what she did.  And I respect her for it.
Ok, if that wasn't enough for you, I'm going to rant a little harder for a minute here, so just excuse me.
I'm disappointed because I thought this book was going to include a beautiful friendship.  And it did at the beginning. Until Eden becomes literally the worst friend in the entire world.  I'm sorry, I get that your feelings are hurt because your best friend yelled at you, but WTF.  Your best friend's father was arrested, put on suicide watch and then disappeared.  Your best friend's mother went on vacation and never came back.  Your best friend is trying to balance caring for her 9 year old sister, have a job so she can earn money to survive, and not let anyone find out that her parents have abandoned them.  HOW ABOUT YOU GET OVER YOURSELF EDEN.
To be fair, I'm not the least bit upset at Eden for not being able to help watch Wren. I get that.  What I'm upset about is the fact that she literally just stops talking to Lucille because one time Lucille flipped her shit, when she is obviously going through a lot, and should be allowed to flip her shit every now and then.  Way to be a shitty friend Eden.  I don't feel bad for you at all.
Ok. Rant is over.
This is getting a little long so I'll just touch on 2 last points: the relationship and the ending.
I don't really mind cheating ( in books).  Sometimes it annoys me and sometimes it doesn't.  I mean, I'm always vaguely uncomfortable because it's a touchy issue, but for the most part, if a book has cheating in it, or if characters cheat, it doesn't automatically make me hate it or them.  So Lucille is in love with Digby, her best friend's twin brother. And Digby has a long term girlfriend.  And he ends up cheating on his girlfriend with Lucille.  And that's not right.  Lucille definitely deserves some of the blame because she knew he had a girlfriend and I'm not even going to excuse, or explain, her behavior because of what she has going on.  And I'm not going to excuse or explain Digby's actions because what he did was wrong as well.  What really makes me angry (totally lied, still ranting) is that, of course, when people find out, it's basically all Lucille's fault.  Digby's the one who actually cheated, but that's ok because he's just so good. It's Lucille's fault for taking advantage of that goodness and how caring he is, and fuck that.  Just another book, (or instance, because it happens all the time) where the girl gets blamed because why not?
Ok, for the ending.  I thought it was great.  It is left somewhat open and everything isn't perfectly resolved, but I'm fine with that.  This book would have lost a star if there had been a concrete happy ending.
Anyway, I decided to give it 3 stars because I did like it and it did evoke a lot of emotion from me, but there was just something stopping it from getting a higher rating.    This was Laure's debut and I will definitely be checking out her sophomore novel.